So it is that time again to link up for: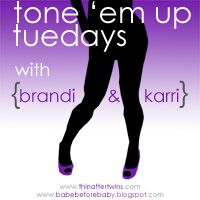 I have been scoping out the blog scenes and pinterest for new exercise moves...
I have found several I like on Skinny Meg's blog, A leg workout, Sexy Arm Workout and Build those Guns workout. I need to incorporate all these into my workouts. How do you keep track of your workouts at the gym? Do you take a notebook or just your phone?
I am incorporating squats (4 sets of 15) everyday. I do them in the bathroom, at my desk, at the gym, cooking supper. Wherever, I get those squats in!! I want to lose some of my hips.
I am getting frustrated with my scale..... I need to quit focusing on the number so much but I just want the number to be where I am happy with it and then just maintaining. I want to rock that bikini this summer and everyone to take a second look!
Food wise today I had a 1/4 of a bisquick waffle - 2 pts WW, grapes and having a salad for lunch!
~K~