So today I am linking up with
Holly
and her buddy
Jake
at Life of Jake, (who is super funny and as soon as my computer quits being stupid, I will be his newest follower!!
They are doing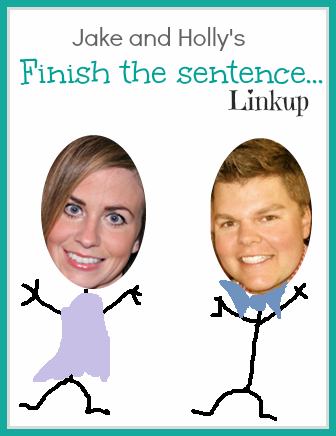 So here it goes:
1. People always tell me.... that my sisters and I could be twins
2. In the movie based on my life... it would probably be boring to be honest. Not much excitement going on here in Karie world
3. Typically, I end up regretting.... eating something daily. Or possibly not eating something.
4. I always ask to leave off the....pickles, mustard, sour cream, guacamole, pico de gallo.
5. Kim and Kanye really... mean nothing to me. Don't pay attention whatsoever.
6. My Parents always reminded me...that my kids will be 3x worse than I was. Oh lord help me.
7. Every single day I.....brush my teeth!
8. This one time in College..went to a local community college and not went back to finish yet.
9. My grossest habit is...digging in people's ears. My kids hate this, if I see ear wax I hold them down and get it out. I even do this to my husband.
10. My latest white lie was... well I am not going to tell on myself. But I am sure it is something to my son to make him be quiet and quit whining.
11. I know all the words to... Sir Mix Alot Big Butts Don't Lie
12. When I grow up...who knows. Whatever the future holds for me will happen.
13. Sexy time is...whenever we get a time when our kids are both asleep, not in our bed and Sunday Funday (as we like to call it)!
14. I will never, ever...eat yellow snow!!
15. I think it's hilarious...when people are idiots!!
There you have it!! Everyone have a great weekend! Ours will be hard.
My husband grandpa passed away Wednesday and the visitation is tonight and funeral tomorrow.
Today is this handsome young man's 6th birthday!
Wish me luck tomorrow night, we are having 4 extras boys come stay with us for his birthday!
And here is Monkey's favorite spot, riding in the tractor with Daddy!
Again Everyone have a great weekend!!