This is my second month participating in the Cara Box and I absolutely love doing it! Katelyn over at
Wifessionals
does a lot of work putting these together and does a great job at it also. I am so glad that I came across it.
This month I meant 2 great ladies! They were so much fun getting to know and they now have a new blogger friend! I had Melissa and she blogs over at
melissaringstaff@avirtuouswoman.org
. She is truly an inspiration to women! Check out her blog to see what I sent to her.
Ms. Brooke had my name and might I just say she is adorable and I love her blog. I can't wait to keep in touch with her. My husband actually helped me open my box and thought it was pretty cool that I was doing this. He really doesn't get why I do a blog but understands that it is something I like to do. But anywho!
The box was so much fun to open. My pictures are not the greatest but bare with me. I almost forgot to take them.
I got sparkling green ribbon and polka dot ribbon!
Sunscreen for my cruise in a couple of weeks! (I will most definitely need this)
Glitter gift tags!! Can't wait to use them next year!
Christmas socks!
An adorable ornament from North Carolina!!
Some awesome eye shadow for my trip! Already been using it though!
Her Christmas card was adorable and the note was sweet!
And then these adorable frames...
Are these not adorable! My boys loved them and put them by our TV!
Can't wait for January 2013 Cara Box!
Well, tomorrow is my BIRTHDAY!!! And I will spending it at home off work! Can't wait!
I will be working on my goals for Operation Red Bikini and being posting it next week!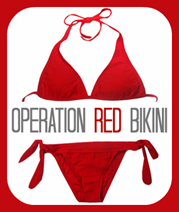 Everyone have a great weekend!