So I was checking out
Darci's
blog and saw that she did an A to Z vlog about her and thought that was a great idea. So thought I would do one also but just in my blog. So here it goes....
Here is the list of questions/topics for anyone that wants to join in on the fun! Blog it or Vlog it, People!
A. Age: Just turned 28 on the 28th
B. Bed size: Queen and not big enough.... hubby is 6'3" and takes up most of it
C. Chore you hate: cleaning the bathroom....Again 6'3" hubby and then my five year old who can't hit the toilet it seems
D. Dogs: 2 but only 1 at our house Buster (who is still a puppy) and Pearlee is my baby but is at my hubby's grandma's
E. Essential start to your day: Going to the restroom and having my hot chocolate
F. Favorite color: Yellow
G. Gold or Silver: Silver but have mostly gold jewerly
H. Height: 5'3" and short legs
I. Instruments you play: none and I probably never will
J. Job Title: Legal Secretary
K. Kids: 2 boys - Jace 5 and James aka Monkey1
L. Live: NE Missouri aka BFE, Missouri
M. Married: Yes, for 8 years going on 9 in September
N. Nicknames: None really use to be JoJo to some kids I babysat
O. Overnight hospital stays: just when havin' my babies and some issues during the pregnancies
P. Pet peeve: Hmmmm.....I have several and shall keep them to myself
Q. Quote: Excuses are Useless, Results are Priceless....
R. Righty or Lefty: Righty
S. Siblings: 2 sisters - Katie 21 and Amber 20
T. Time you wake up: 6:30 a.m. Shooting for 5:30 a.m. every morning
U. University attended: Moberly Area Community College for a couple of semesters
V. Vegetables you dislike: Lima Beans and Beets
W. What makes you run late: Trying to get things done at home
X. X-rays you've had: Knee and wrist
Y. Yummy food: Dairy Queen Ice Cream Cake and Carrot Cake
Z. Zoo animal favorite: Giraffes
So there is some things about me..... Not alot but some.
Hope everyone had a great NYE! We did. I brought it in sleeping on my couch. We had about 7 friends and their kids over. But everyone left by 10 and we were sleeping by 10:30. I sat my alarm for 11:55 to watch the ball drop but opened my eyes and went right back to sleep. Yeah, we are getting old but hey it was one of the best ones. We both felt awesome the next day and got things done.
One of those things was not packing for our upcoming vacay. But oh well, we will get it done.
Also, I have stepped on the scale but not yet today and was up again. I will post about it tomorrow. But I was back at the GYM today and felt better after it. Looking to do some time on the treadmill tonight.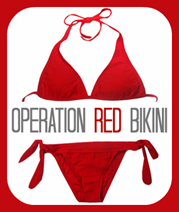 OPERATION RED BIKINI
HAS OFFICIALLY BEGUN!!!!
My sister is getting married in September. I know the challenge ends May 31st, so I am hoping to meet my goal of 20 lbs by then and 10 more lbs gone by September.
I got this dress for my birthday and it is a medium and is super tight on my butt and legs, so by May 31st, I want to look like this in it. And also, I want to rock this bikini this summer at the Baring Lake....
I got this, I can do this!!!
~K~