I planned on having this blog up yesterday but I got swamped at work and then my internet at home did not want to cooperate with me. So I guess I am a day late dollar short again! I hate that I am not getting post up daily anymore. Work just keeps dragging me behind but I guess I better be glad to have a job in this economy!!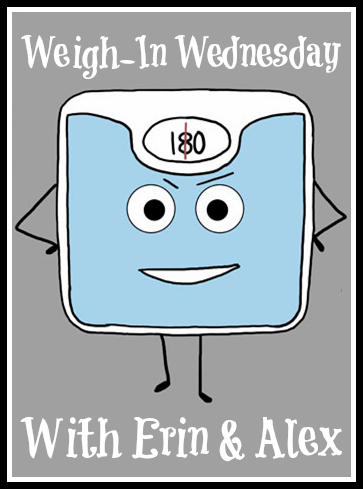 I must say that I am glad that I was super excited after this weigh-in and I was like Boo YA!!! to the scale!
Take that, you ain't got nothing on me! I was so proud of myself for losing 2.4 lbs!!
1-30-13 weigh-in
It gave me the motivation for this coming week and to track everything that goes into my mouth! I am a little nervous about Super Bowl food but am going to save all my extra points for WW for that.
It makes me more determined and that I know that I can do this! I am getting closer to the 140s. There are so many women out there going through this battle with their weight and confidence!
I actually like this picture of myself!
On another note, there are two blogs that I read daily and have been commenting more (still feel like a stalker to post everytime but getting better and not so worried about it now. They are just going to have like me and become my new BBF!! LOL!!
One of them is
Brandi
at
http://www.mamalaughlin.com/
who I just happened to come across her blog on Pinterest and was instantly hooked. She is hilarious, down to earth, joker, says what she wants and doesn't care, and lost 60 lbs. the old fashioned weight (she was an inspiration to me and I was in the same place she was when she started her journey.) Then there is
Megan
at
http://missmadisonscharmedlife.blogspot.com/
who recently changed the blog title to Skinny Meg!! She has lost over 110 lbs the old fashioned way. She is a working mom like Brandi and her house is gorgeous!! I would love for her to come decorate mine. She is sassy, loves to sweat at the gym! Check out their blogs for inspiration, motivation and workout tips and routines!!
These two women and their blogs (plus other blogs) have helped my continue back on my weight loss journey and since I started reading them in September of 2012, I got back on WW and exercising more and have lost 13 lbs. for a total of 26 lbs since September 2011.
These two girls are friends, work out buddies in real life and live close to each other. You can find them on Instagram and they are together a lot which I think is awesome!! I wish I had a workout buddy and helped push me. But anyway, let me get to my point here.....
These two ladies, who let us into their lives daily and do not have to, have been scrutinized and people have been just down right rude to them and it got me thinking about what this world is coming to and how different it is going to be for my boys to grow up in this day of age compared to just 20 -30 years ago to be a child.
Kids watch the adults they are around and they do what they see. If those adults are hateful or disrespectful, the child will most likely be the same way. I am saying this and I know that I am not perfect and have made mistakes but I also try to change what I have done or pretty much not do it again.
I want my boys to grow up being respectful but at the same time stand up for themselves and not to let people run over them. Our 5 year old is having a hard time right now listening to us, doing what we ask, he is more whining and we get after him and then he says we are mean. But I as I explained to him this morning I would rather him think that I am mean and him grow up to be respectful and listen to adults then for him to run all over us and be a trouble maker and someone people do not want to be around. I know he does not get it but hopefully someday he will.
I just don't understand why people are so opinionated and instead of politely stating an opinion, they seem to think that their opinion is the correct one then rudely have to announce it. It makes things harder for the rest of us. I will say that Mama Laughlin and Skinny Meg have done blog post standing up for themselves but they have done it politely and I would say with grace. I am glad that they do their blogs and are going to continue to!
On a completely different note, Monkey is now sleeping with his brother every night. So I am thinking that I am going to take the crib down this weekend and be on the look out for a bed for him. Even though I don't think he will sleep in it cause sleeping with big bro will be way cooler, I am sure!
The only bad thing is he was up at 2:30 and came to our room!! He slept with us for about an hour and then I put him back in his bro's room!
He is just getting so big.
Monkey in big Brother's bed!
Jacer snacking like always!
January Cara Box
I got to meet two great people through this again this month the awesome
Stephanie
at mrssnyderesquire.blogspot.com (go to her blog and check out what I sent her) and equally awesome
Tiffany
at Make it Cute sent me an awesome box!! I work as a legal secretary and Stephanie is a lawyer, I loved this! It was great to talk to her about work and she knew where I was coming from. Tiffany is a single mother of two boys and loves crafts! I love crafts but she can actually do them!! I absolutely love doing the Cara Box, I get to meet new people that love blogging and also get some snail mail. My son loves getting the mail and when there is a package, he gets so excited! He had my box opened from Ms. Tiffany before we even got up the lane to our house.
She got me the cutest socks to wear to the gym, some awesome bath and body spray that is already in my gym bag, some sugar free candy (love Werther's), a new makeup bag and a gift card!! I think I am going to find me some new workout clothes!!!
Love it all!!! If you have not done a Cara Box, you need to check it over at Wifessionals!!!